Dr. Willem Verweij
PT, DPT
Physical Therapist, Owner
I graduated in 1992 with a bachelor's degree in Physical Therapy from the Haagse Academie voor Fysiotherapie in my native Netherlands. Prior to moving to New Hampshire in 1994 I served as a Physical Therapist in the Royal Dutch Army and worked in several private practices in the Netherlands. After working at a local hospital for 10 years I founded WV Physical Therapy. I have received training in a variety of manual therapy approaches and became a Certified Orthopedic Manual Therapist (COMT) in the Maitland Australian concept. I received my doctoral degree in Physical Therapy in 2011.
Humility – you can't do it alone. Appreciate the people who got you here. Autonomy – Appreciate what everyone brings to the table and give them a chance to use their own strengths. Lifelong learning – Whether Physical Therapy related, hobby related, or life related… there's so much to learn. Gotta have Fun – Whatever we're doing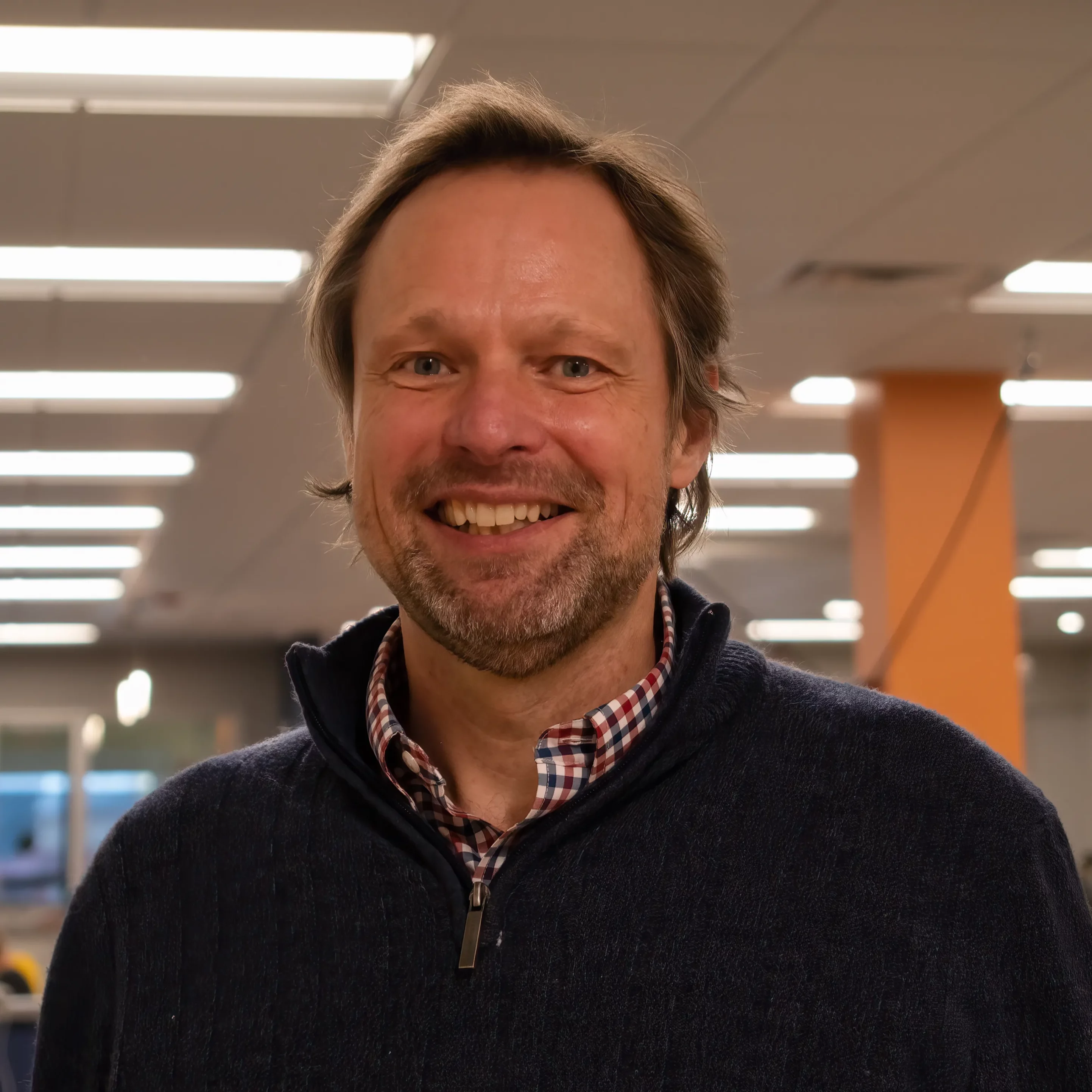 "Progress, not perfection"
I founded the company in 2004 and have build a team of professionals and leaders. I feel that patients are often not getting the care they deserve: they feel like they are being rushed; not being listened to; bounced around between different providers; and getting impersonal care. WV Physical Therapy was started to fix that… Next to giving expert technical care we put a very high value on the human part of medical care. By making sure you are listened to, are given plenty time for effective care, and have (almost always) the same therapist at every visit. I especially enjoy working with vestibular patients (Patients dealing with balance issues, vertigo, and dizziness). Vestibular problems have a huge impact on patients wellbeing, function, and sanity. It is very rewarding to help patients through that.
What I enjoy most about working at WV Physical Therapy is that, as an owner, I get to work with the best rehab team I have ever known. Seeing them take care of our patients like they are family inspires me every day!

What is Dr. Willem Reading, Listening To, or Watching?

Ted Lasso – best TV show ever

The Prince of Tides by Pat Conroy – biggest page turner I have read in the past few years

Smartless – super funny podcast with Jason Bateman, Sean Hayes, and Will Arnett
When not working on or in the practice you may find me running the local trails with my favorite exercise partners – my wife, daughter, and Daisy the dog. I enjoy a good book, a good IPA, skiing, kayaking and if I find the time, photography.
Patient Testimonials
Willem Is the number 1 vestibular specialist in the world!!! He was the only one able to reset my vertigo!!! He is worth a million bucks!! Great person and has exceptional talented staff!! Always a pleasant experience from everyone on staff!!!!
Thank you to Willem and his team for the encouragement, friendliness, and skill when dealing with my back injury. When someone needs pt, I highly recommend you!
For many years I have suffered with crippling vertigo because of misplaced crystals and vestibular system weakness. I had given up on being treated and getting better information on why this keeps happening. Then I was referred to this wonderful facility. Wilhelm is amazing. He not only was able to correct my vertigo, he began to address my vestibular system weakness and balance issues. He had me work with two amazing young therapists to help me work on my balance issues. They also boosted my self esteem with our conversations. I know I will return if my issues with crystals become a problem. Happy Valentine's Day. I hope you know how your knowledge and professionalism have changed many lives as well as mine