Pelvic Floor Therapy in Rochester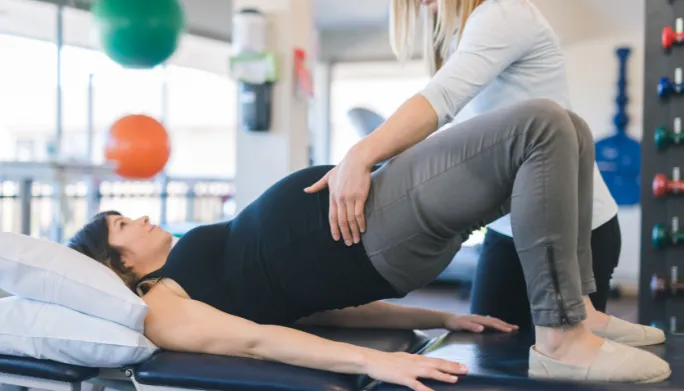 Gentle Approach For Your Needs In Rochester
Cindi creates a very comfortable environment for women. She is friendly, knowledgeable and very sensitive to the nature of your situation and realizes that every woman is unique. Cindi will evaluate your personal condition and provide you with education and strategies that you can start working on starting on day one. Learn more about Cindi here.
Urinary Incontinence
Urinary incontinence is not a "normal" occurrence. It should completely resolve after childbirth and it's not a normal problem of old age. Over 20 million women in the US have reported to suffer with urinary incontinence. It is estimated that another 10% never even report it. Once the cause is identified and properly treated by your physician and physical therapist 50% can be cured, 35% can experience significant improvement, and 15% made more comfortable.
Common treatments include:
Evaluation of a bladder diary
Orthopedic screen for musculoskeletal involvement
Pelvic floor muscle assessment of strength and function
Biofeedback assessment for reeducation of pelvic muscles
Bladder habit retraining
Individualized exercise program for your pelvic floor and other postural dysfunctions
Pelvic Pain Therapy in Rochester
Chronic pelvic pain (CPP) is defined as any pelvic pain that continues for more than six months. CPP originates in the lower abdomen and pelvis, but it may extend downward to involve the lower legs or upward to the chest area. Pain can be intermittent or continual in duration.
Common symptoms include:
Low back pain/abdominal pain
Heavy feeling in the pelvic region
Radiating leg pain
Pain with urination and/or bowel movements
Bowel complaints such as constipation or diarrhea
Painful intercourse causing decreased sexual activity
Symptoms are frequently due to spasms and trigger points found throughout the pelvic region. Treatment of CPP or vulvodynia is very specialized. It includes:
Skilled manual therapy to the pelvic floor muscles as well as the fascial system of the entire body
Biofeedback from the pelvic floor and surrounding muscles
Education for long term self management of symptoms
Pelvic Floor Therapy for Pregnancy And Postpartum
Women in the perinatal period often experience musculoskeletal pain.
The following lists the most common diagnoses:
Low Back Pain
TMJ (jaw) Pain
Rib Pain
Sciatica
Carpal Tunnel Syndrome
Thoracic Outlet Syndrome
Headaches
Sacral Pain
Groin/Pubic Pain
Upper Back Pain
Neck Pain
These diagnoses can affect your daily function and sleep habits and, sometimes, get worse as your pregnancy progresses making each day tougher to get through.
The gentle manual therapy that our women's health specialists provide in conjunction with individualized stretching and postural re-education have been proven to provide significant relief during your last months of pregnancy and to get you back on your feet more quickly postpartum. The earlier your troubles are addressed, the easier they will be to correct!
Request An Appointment
Please fill out this form and
we will contact you about scheduling. April Perreault

Very caring and knowledgeable therapists that put the patient first. They will work with you on a plan to get you back into the shape you desire and keep you moving. Alfred Caldwell


A very pleasant and positive experience, would highly recommend this physical therapy. The staff was always very pleasant and fun to work with.